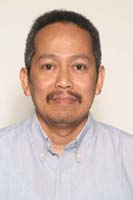 Dr. Adi Pancoro
School of Life Sciences & Technology
Institut Teknologi Bandung
Jl. Ganesa No. 10 Bandung,
Indonesia 40132
Phone: +62 22 251 1575, 250 0258
Fax: +62 22 253 4107
Email: adi@sith.itb.ac.id
Academic Career
| | | |
| --- | --- | --- |
| Assistant Professor | Institut Teknologi Bandung | 1987 |
| Doctorate ( Molecular Genetics ) | Newcastle upon Tyne, England. UK | 1993 |
| Bachelor (Biology) | Institut Teknologi Bandung | 1985 |
Employment
Academic staff (1987 – now)
2006-Present: Research Reviewer Team of Departement of National Education–DP2M
2007 – 2011 : Head of Biotechnology Research Center. ITB
2011 : Team Head of RENSTRA, School of Life Science and Technology –ITB
Research and development projects over the past five years
Riset KKP3T-Departemen Pertanian. 2009-2010. Identification of F1 cross AR143XRed mangos using molecular marker of microsatellite. (Principle Investigator)
Riset Unggulan Strategis Nasional-Dikti. 2009-2010. Pengembangan Budidaya induk/broodstock udang windu (P. monodon) dengan aplikasi teknologi Recirculation Aquaculture system, Teknologi RNA interference dan Penanda Molekuler Mikrosatelit. (Principle Investigator)
Competitive Research of ITB : 2010.Konstruksi vector ekspresi gen penghasil bioplastik-material berbasis hayati dengan teknologi rekayasa genetika. (Principle Investigator)
The National Science Foundation (NSF) : 2010-2012. Biogeographic and ecological diversity of tress across the Indoensian archipelago : developing indigenous leadership in biodiversity informatics. (Member of researcher).
Riset KKP3T-Departemen Pertanian: 2011-2012. Pengkayaan Plasma Nuftah, penentuan tetua dan penyediaan seleksi dini untuk perbaikan varietas Durian ( Durio ) dengan pendekatan molecular assisted Breeding. (Principle Investigator)
Cooperation with industry over the past five years
2011-Present PT Astra Agro Lestari Tbk.
Publications
Fainmarinat Inabuy and A. Pancoro . 2010. Isolation and characterization of artial cDNA of sucrose synthase putative gene in Palmyra Palm ( Borassus flabellifer ). Biotropia. The Southeast Asian Journal of Tropical Biology-Semeo Biotrop . Vol.17 No.2 December. P.77-97.
Martha Aznury, Tjandra Setiadi1, and Adi Pancoro . 2010. Pengaruh Sumber Karbon Terhadap Produksi Bioplastik Polihidroksialkanoat (Pha) Dengan Ralstonia Eutropha. Jurnal Teknik Kimia Indonesia Vol. 9 No. 1 April 2010, 28-32.
Topik Hidayat and Adi Pancoro . 2010. Single Strand Conformation Polymorphism Method for Initial Detection DNA Sequences Homogeneity. Hayati Journal of Biosciences March 2010 Vol. 17 No. 1, 50-52.
Topik Hidayat, Adi Pancoro , Diah Kusumawaty, and Wichan Eiadthong. Molecular Diversification and Phylogeny of Mangifera (Anacardiaceae) in Indonesia and Thailand. Proceeding of the International Conference on Advanced Science, Engineering and Information Technology 2011, Hotel Equatorial Bangi-Putrajaya, Malaysia, 14 – 15 January 2011.
Participation in specialist organizations over the past five years
2006-2012 : Member of National Research Council- Indonesia (Dewan Riset Nasional)
2011-Present : Team Member of Research Desentralization and Sosialization of RIP from DP2M